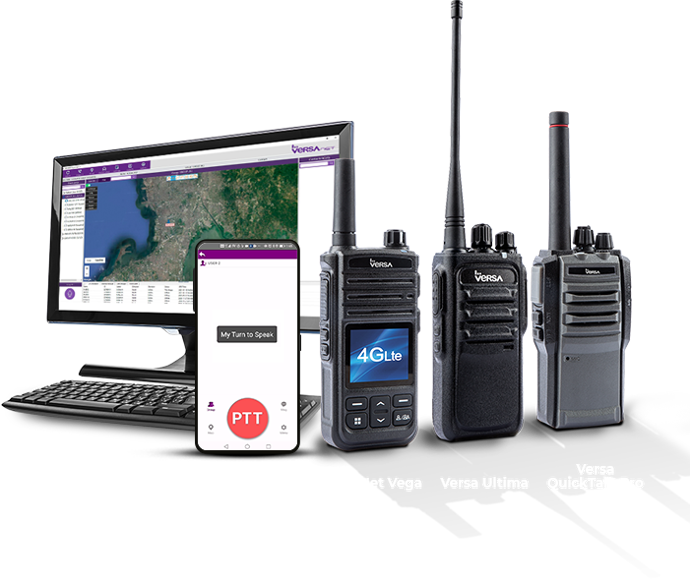 HOSPITALITY AND RETAIL

From the building's roof deck to the basement parking lot, we have the tools to keep you connected. Keep everyone safe and aware with a system that is part of industry safety protocols.
VersaNet Vega | Versa Ultima | Versa QuickTalk Pro
VersaNet Vega
FUTURE OF TWO-WAY RADIOS

● Compact and smart IP-based communication system
● License-free radio communications
● Battery capacity of 5200mAh for long-day operations
● No need for repeater stations
● Dispatch Application
● Over-the-Air Programming
Download PDF | Watch Video
Versa Ultima
​POWER AND RANGE
● UHF/VHF Dual-Band Transceiver
● 5W and can cover a 5KM radius open area (line of sight)
● Analog Repeater Operation
● Transmit Power Selection
● Power Saving Function
● High Capacity Li-Ion Battery
● Fast Menu Operation

Download PDF | Watch Video
Versa QuickTalk Pro
EFFICIENCY AND RELIABILITY

● Business Radio for medium-sized buildings and complexes
● Tried and tested by the security industry
● High/Low Power Selective Feature
● Voice Prompt
● Wide/Narrow Bandwidth
● Tail Tone Elimination
Download PDF | Watch Video



CONTACT US

We'd love to hear from you.

Your feedback is valuable in helping us improve our services. Let us know how we can help you as well.